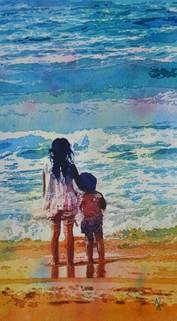 Well I think I can finally say spring is here, and I have a feeling that summer will follow close on its heels. As far as winters go, it wasn't a bad one for us this year, luckily we were able to escape, and enjoyed a wonderful trip to Ecuador and it's Galapagos Islands: oodles of inspiration with it's diverse landscapes and lots of creatures willing to pose.
I am heading into summer busily painting for a solo show that will be held at the Daffodil Gallery in Edmonton in September. Very exciting for me! I am now incorporating people into some of my paintings, and I find them so much more engaging to paint, and I am hoping they will be just as engaging for the viewers to look at.
Some big news for me was my acceptance into the Transparent Watercolor Society of America's 39th Juried Exhibition in Wisconsin… it took many attempts but I finally made it and am thrilled. I am even going down for the opening.

Have a great summer everyone, I hope it's filled with good friends, family, and wonderful art!