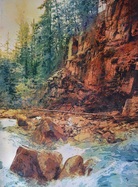 "The Annual Exhibition of the American Watercolor Society is juried by Signature Members who have been elected by the AWS membership. It is the purpose of the Society to promote the art of painting in water media and to exhibit works from the best contemporary watercolor artists. " http://www.americanwatercolorsociety.org
Yippee! I was finally accepted...and can't pass up on the opportunity to take it all in with a trip to NYC.
I sent this piece off today and I hope to follow in April, to be there for the awards dinner on the 15th, should be quite the celebration.